This is the third of three blogs on creating strategy and implementing change. The first was a repeat of a 2014 blog called 'Common management mistakes in implementing change', the second described 'Six lessons in introducing organisational change in non-profits'. In this third one I share a number of observations I have noted in a recently launched a three-year vision 2020, and the kick off of the second three-year phase of a 10 year Vision 2023. I thought I'd share some of the wisdoms that are emerging from our meetings about the leader's role in change.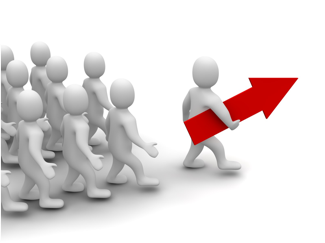 Be the figure head.You must be the champion, the person who generates the passion and continues to stoke the fires to ensure the energy and commitment to see the changes through. A Russian colleague once taught me a proverb, 'The fish rots at the head.' If you as the leader are not promoting and driving the change, it will soon rot and fail.
Communicate the sense of urgency. At the start of a vision process you need to help people understand what is driving the need for change. If they don't see the problem and threats, they will not invest the necessary commitment to moving towards the future scenario.
Involve people in shaping the change, and in the plans for successfully implementing it. This way people are more likely to share the imperative for change, get excited about the goals, and buy in to the process. Recognise you can't do it alone. Include critical external partners and stakeholders where they have input, or where they will be affected by the changes.
Generate the passion.As you progress and commence various phases you need to constantly reemphasise the vision and strategic direction, and may need to recall the context driving the change. Communicate throughout the process at all levels and through all channels. Energy will inevitably flag. Change is hard work. It requires efforts above and beyond the normal workload.
Lead from the top. You cannot delegate or abdicate from the responsibilities of the change. Demonstrate the changes you expect to see.Recognise and promote change as growth. Your continued passion and commitment will help maintain the necessary energy required to sustain the effort for the long journey.
Aim for dynamic reforms, accept nothing less than revolutionary change. Be positive, brave and bold. Break the back of old culture and eliminate unnecessary policies and procedures. Be open to other ideas and new ways of doing things. You can't announce marvellous change, then do business as usual.
Communicate plans before, communicate progress throughout, and communicate successes as they happen. You cannot over communicate.
If you'd like to know more about introducing a leadership programme into your organisation or would like to train in-house managers how to facilitate change contact us at admin@plb-consuling.com